Discover more from Popular Information
Independent accountability journalism.
Over 295,000 subscribers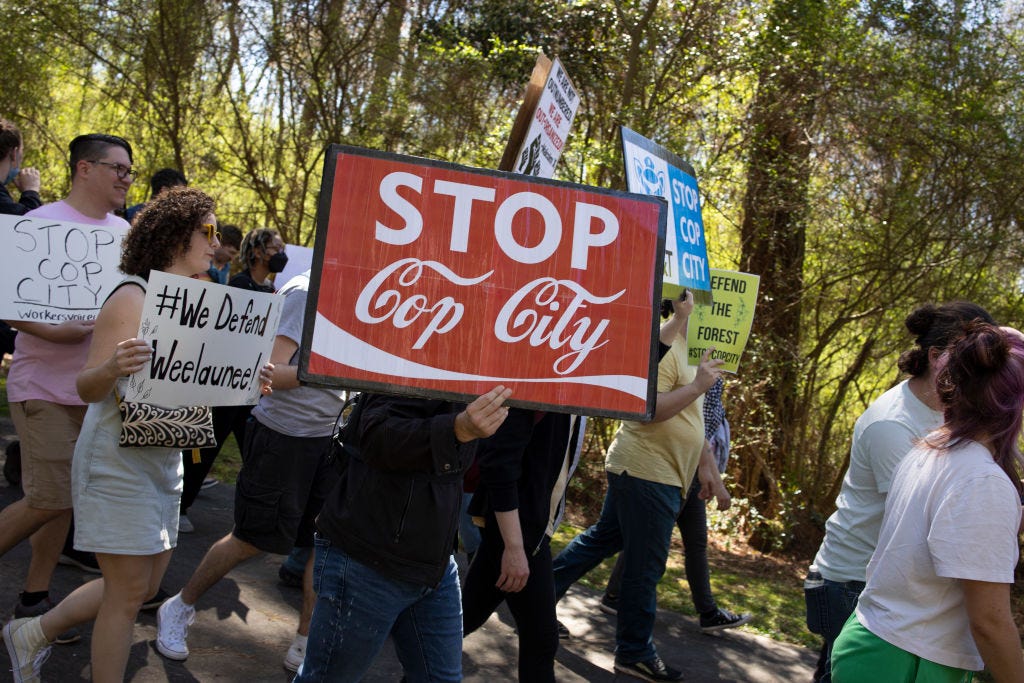 Sixty-one activists appeared before Fulton County Court yesterday on racketeering charges related to their protest of Atlanta's new "Public Safety Training Center," commonly known as Cop City. The arraignment comes after the Georgia Attorney General's Office alleged, in September, that defendants were "conspiring" to violate the state's Racketeer Influenced and Corrupt Organizations (RICO) Act. If convicted, each "Stop Cop City" activist could face up to 20 years in prison — even those who are alleged to have participated in non-violent protests. Experts worry that it's the latest tactic by Georgia officials to stifle political dissent. 
Since its approval by the Atlanta City Council in 2021, Cop City has been the subject of intense controversy and criticism across the nation. The corporate-backed Atlanta Police Foundation, which is spearheading the project, says the center "will reimagine law enforcement training." It will include a "Mock City for burn building training and urban police training," an "auditorium for police/fire and public use," and a police academy, among other things. Upon its completion, the $90 million, 84-acre facility would be the nation's largest police training center.
But Cop City opponents warn that the center, which will be located near a majority-Black neighborhood, will further militarize the police and increase police violence against Black Americans. The proposed training center is also slated to be built on forested land that was previously a prison labor camp. Environmental advocates say that destroying this green space would be a step backward in the fight against climate change and make Atlanta even more vulnerable to extreme weather. 
The 109-page RICO indictment lumps together vague allegations of non-violent conduct with more serious charges of violence. The indictment, for example, cites numerous protesters for "trespassing" and "join[ing] an organized mob of individuals designed to overwhelm the police force in an attempt to occupy the DeKalb forest and cause property damage," describing it as "an overt act in furtherance of the conspiracy." Notably, the indictment does not allege these specific individuals caused any property damage or overwhelmed the police. But the indictment claims that was their intention. Trespassing is a crime, but not one that typically comes with a 20-year prison sentence. Other acts "in furtherance of the conspiracy" include being reimbursed for camping supplies, kitchen utensils, and glue. 
The indictment also portrays the group's public criticism of the police as a central feature of the conspiracy. It links the creation of anti-Cop City efforts to the racial justice protests of 2020, despite the fact that protests occurred a year before the announcement of Cop City. "The demonstrations and protests eventually ended, but an undercurrent of threatening, violent anti-police sentiment persisted with some individuals in the Atlanta area…and it remains as one of Defend the Atlanta Forest's core driving motives," the indictment reads.
In one instance, the indictment cites three protesters distributing "flyers calling Trooper Jonathan Saucedo (sic) a murderer," characterizing it as an "an overt act in furtherance of the conspiracy." Salcedo was one of six officers believed to have killed "Stop Cop City" environmental activist Manuel Paez Terán, who was shot 57 times. The activists were previously charged with "felony intimidation" for distributing the flyers, an act which is typically protected by the First Amendment. Now, the Georgia Attorney General's Office says this amounts to a criminal conspiracy. 
Several of the defendants in the RICO indictment were previously charged with more specific crimes: 23 protestors "were charged with domestic terrorism after clashing with police" in March 2023. Three others were charged with charity fraud and money laundering for bailing out protestors in May 2023.
"Breathtakingly broad and unprecedented"
Many civil rights organizations have spoken out in opposition to the indictments. On September 5, the ACLU of Georgia released a statement blasting the indictment of protesters who were raising concerns "over climate justice, displacement of Black communities, and increasing militarization of police forces," adding that only "a small minority of protesters have allegedly damaged property." 
"We are extremely concerned by this breathtakingly broad and unprecedented use of state terrorism, anti-racketeering, and money laundering laws against protesters," Senior Staff Attorney for ACLU's National Security Project Aamra Ahmad said in the statement. "Georgia law enforcement officials are disproportionately wielding these overbroad laws to stigmatize and target those who disagree with the government." 
Other groups that denounced the indictment include the National Lawyers Guild and the Center for Constitutional Rights, who both argued that the RICO charges were intended to silence protestors. The National Lawyers Guild argued that the indictment is "intended to serve a political end… to silence the protest movement, to prevent it from having access to attorneys, bail support and even legal observation," stating that the charges were meant "to portray a popular movement as an unlawful conspiracy." The Center for Constitutional Rights argued that, "[l]ike anti-terrorism statutes, RICO laws, in their vagueness and elasticity, are dangerous weapons in the hands of prosecutors and corporations bent on silencing dissent." 
In June, before the RICO indictments, DeKalb County District Attorney Sherry Boston announced that her office was "withdrawing from all cases related" to Cop City, including "domestic terrorism and related charges for approximately 42 people arrested during demonstrations against the center" due to "'fundamentally different prosecution philosophies' between her and Georgia Attorney General Chris Carr's office" regarding "who should be charged and what they should be charged with." Boston told WABE that the "value set of our office is that I will only proceed on cases that I believe I can make beyond a reasonable doubt."