Discover more from Popular Information
Independent accountability journalism.
Over 295,000 subscribers
Scholastic, the popular publisher of children's books, is a big business. It is a publicly-traded company with a market capitalization of $1.15 billion. Its CEO, Peter Warwick, collected a total compensation of $3,300,361 in 2023, and at least four other executives were paid over $1.3 million. Since 1981, Scholastic has hosted book fairs inside of schools. Today, according to the company, it puts on "120,000 book sale events in partnership with schools across the country, giving more than 35 million students and their families access to thousands of affordable books." 
But this year, facing pressure from right-wing ideologues, Scholastic is facilitating the exclusion of books that feature people of color and/or LGBTQ characters. Scholastic has grouped many of these titles in a collection called "Share Every Story, Celebrate Every Voice." School officials are then given the option to exclude the entire set of books from the book fair. Scholastic has, in the words of one librarian, given schools a "bigot button" to exclude these books and mollify intolerant pressure groups. 
Scholastic declined to provide a list of the titles included in the "Share Every Story, Celebrate Every Voice" collection. But Popular Information was able to identify many of the titles through photographs of the collection, including those shared by activist Kelly Jensen and others posted publicly by librarians.
Among the books Scholastic is giving schools the opportunity to exclude is Justice Ketanji, a short biography of Supreme Court Justice Ketanji Brown Jackson. According to Scholastic, the book tells the story of how "Ketanji refused to let naysayers stop her from rising to the top, whether it was participating in her high school debate team, applying to her dream college, or excelling at Harvard."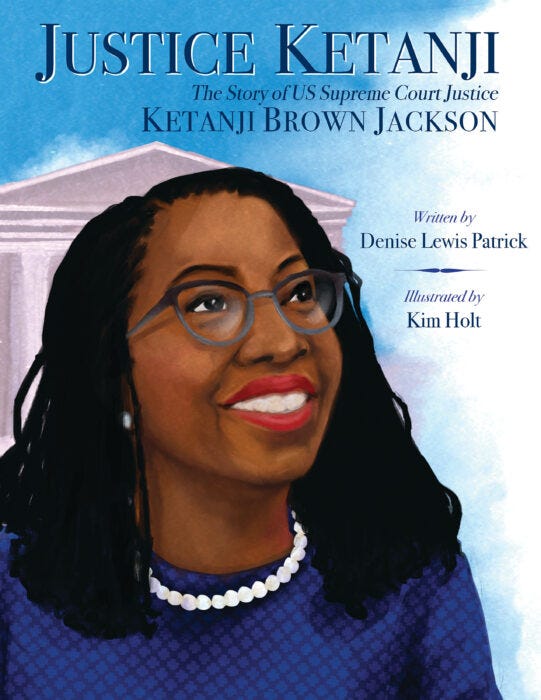 Also designated for the collection is Because of You, John Lewis: The True Story of a Remarkable Friendship. The book is the story of a boy, Tybre Faw, who learns of John Lewis' historic fight for voting rights and becomes determined to meet him. 
Also targeted are books that suggest acceptance or tolerance for LGBTQ people. The book All Are Welcome encourages the acceptance of all types of people and families. On one page, same-sex couples are depicted walking happily among many other couples.
Another book in the "Share Every Story, Celebrate Every Voice" collection, Picture Day, is about a middle school student who cuts her hair before picture day. The book has a passage where a girl asks another girl to go to a dance. 
Other books in the collection include:
Alma and How She Got Her Name. The award-winning story of the origins of a Latina girl's name.

Rez Dogs. "[A] powerful story of a girl who learns more about her Penacook heritage while sheltering in place with her grandparents during the coronavirus pandemic."

Change Sings. A story about how everyone has the power to make change in the world by National Youth Poet Laureate Amanda Gorman. 
Even schools that opt-in to receive these books are given another reminder from Scholastic that the books can be set aside and excluded. 
In a statement posted online Friday evening, Scholastic said it was necessary to segregate these titles because "[t]here is now enacted or pending legislation in more than 30 U.S. states prohibiting certain kinds of books from being in schools – mostly LGBTQIA+ titles and books that engage with the presence of racism in our country." According to Scholastic, "these laws create an almost impossible dilemma: back away from these titles or risk making teachers, librarians, and volunteers vulnerable to being fired, sued, or prosecuted." Scholastic's "solution" is to make it as easy as possible for school officials to exclude these books. 
What laws does Scholastic believe would expose schools to liability for offering these books? Scholastic declined to answer the question.
According to a database maintained by PEN America, 15 states have banned K-12 schools from offering instruction on Critical Race Theory and related concepts. But a biography of John Lewis that includes his efforts to overcome racially discriminatory voting restrictions is not "Critical Race Theory." It is history. The same can be said for the story of how Justice Jackson overcame barriers, including racial discrimination, to join the Supreme Court. Scholastic, by suggesting school officials who include these books in a book fair could be successfully prosecuted, is going far beyond the text of these laws. 
According to the PEN America database, a handful of states — including Florida, Iowa, and Indiana — restrict instruction on sexual orientation and gender identity. But the most expansive of these, Florida's "Don't Say Gay" law, applies only to instructional materials, not library books. This is not an argument advanced by critics of the law. Attorneys representing Florida in litigation state the law "does not even arguably restrict library books." 
Scholastic's contention that it must facilitate the censorship of books because of "pending legislation" is particularly mystifying. There are countless bills filed at the state level each year. And there are many reasons those bills are not enacted into law. Some proposed legislation, for example, is unconstitutional. 
The right-wing war on Scholastic
In recent months, Scholastic has faced sustained criticism from Brave Books, a publisher created to counter "the progressive agenda in so many of today's children's books." Brave Books has a section of its website dedicated to "The Dangerous Truth Behind Scholastic." According to Brave Books, "like Disney, Target & Bud Light, Scholastic has succumbed to an agenda that has led them to flood our schools and libraries with books that promote dangerous and anti-Biblical ideas." The "solution" is "Brave Book Fairs" which will "offer schools a catalog of children's books that are engaging and age-appropriate without all the junk." 
Brave Books publishes authors such as Kirk Cameron, the former child star now known for his anti-LGBTQ views. "As Bibles are literally being removed from schools and libraries — and as Christianity, and faith, and the Ten Commandments are being taken out of schools and replaced with toxic ideas like transgenderism, CRT and the 1619 project, I'm looking to fight back," Cameron said in 2022. "I'm putting my new book — along with other books by Brave Books — into America's schools."
The books offered at Brave Book Fairs "protect and foster children's innocence which gives kids the freedom to JUST BE KIDS." Among the titles that Brave Books will offer at their fairs, according to the company, is Tom Sawyer — a classic book that includes the n-word. 
Previously, Scholastic has taken a strong stand on behalf of marginalized communities. "Scholastic believes that all people, including unequivocally those in the trans community, deserve to live free of prejudice and intolerance, and our company actions support these beliefs in respect to our employees, authors, and the books and materials we publish," the company's former CEO, Dick Robinson, said in 2020. The company released a similar statement condemning racial discrimination. 
Today, Scholastic appears to be charting a different course.