Discover more from Popular Information
Independent accountability journalism.
Over 295,000 subscribers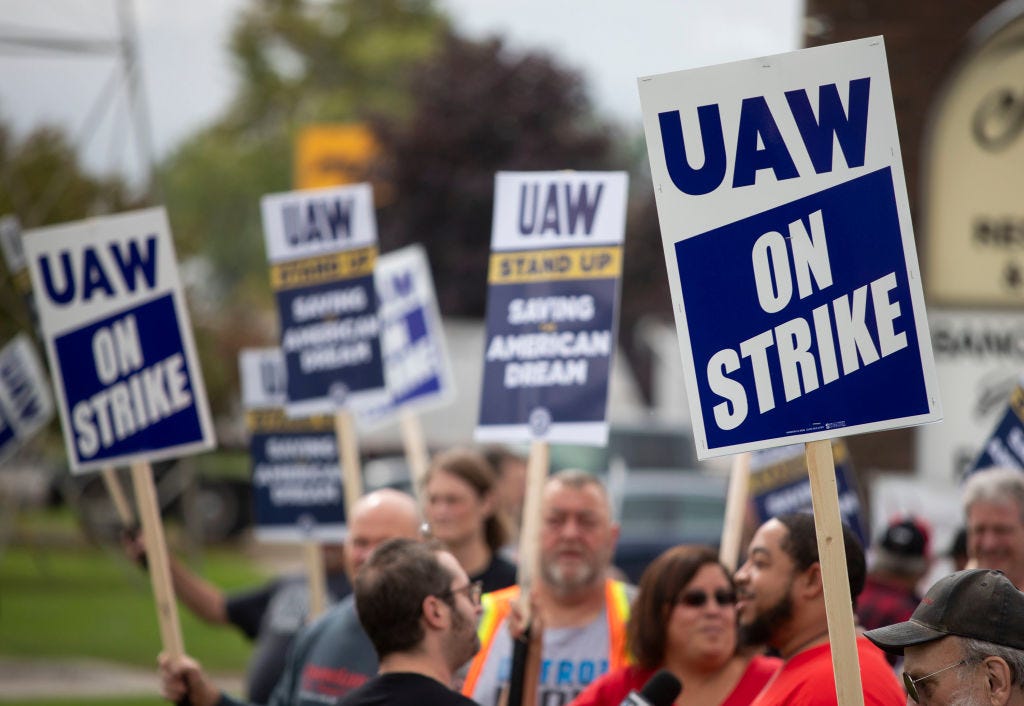 This week, the United Auto Workers (UAW) significantly expanded its strike of the three major U.S. automakers, targeting some of the companies' largest and most profitable facilities. On Monday, the union struck the Stellantis RAM pickup factory, which employs 6,800 workers. On Tuesday, 5,000 workers at the GM SUV factory in Arlington, Texas, walked off the job. 
The UAW announced its strike of GM's Arlington plant shortly after the company announced over $3 billion in profits for the third quarter of 2023, beating analysts' expectations. 
The UAW strike began on September 15. The union began by striking one facility from each company: Stellantis, GM, and Ford. Since then, the union has unpredictably expanded the strike to different manufacturing plants. The strategy makes it more difficult for the automakers to prepare and allows the union to strike for a longer period of time before exhausting its $800 million strike fund. Striking workers receive $100 per day from the union. Automakers have responded by laying off several thousand workers, claiming that strikes at other plants mean there is no work. 
Compensation remains a central issue in the labor dispute. The UAW says its workers are grossly underpaid and is demanding 40% raise over four years. The automakers have responded by offering a 23% increase. While there is a significant gap between the two sides, they are moving closer together. 
An even thornier issue involves how U.S. auto manufacturing is structured in the future. All three manufacturers have committed to aggressively transitioning to electric vehicles over the next decade. GM, for example, says it will completely phase out the internal combustion engine and only produce electric vehicles by 2035. But, at the moment, workers who produce the batteries that power electric vehicles are not unionized. 
The UAW is seeking for the workers at battery facilities to be included in the negotiations. Many more of these facilities are expected to be built in the United States in the coming years to facilitate the transition to electric vehicles and take advantage of incentives put in place by the Biden administration. If these facilities are not unionized, the transition to electric vehicles could erode union power. 
On this issue, the auto manufacturers have diverged. Earlier this month, the UAW said that GM agreed to include battery plant workers in its labor deal. But Ford and Stellantis have not followed suit. Ford CEO Jim Farley has accused the UAW of "holding the deal hostage over battery plants." Ford and Stellantis have argued that unionizing battery plants would not allow the company to effectively compete against non-union EV manufacturers like Tesla and Hyundai. "While Ford remains open to the possibility of working with the UAW on future battery plants in the United States, these are multi-billion-dollar investments and must operate at competitive and sustainable levels," Ford said in an October statement. 
But that argument is based on a misconception of how higher wages at unionized businesses impact competitors. While unionization will increase compensation at battery facilities, it will ultimately force non-union competitors to raise their wages as well. Mike Ramsey, an auto industry analyst, explained that non-union battery facilities will "have to raise their rates, or they're going to get unionized, or they're not going to be able to keep their workers." Soon, non-unionized plants will no longer be able to offer significantly lower wages. (The same dynamic, in reverse, is why the decline of unionization has depressed wage growth among all workers.)
So, the issue is not whether GM, Ford, and Stellantis will be able to compete in a future dominated by electric vehicles. What's at stake is whether the auto industry, as a whole, will provide jobs with a fair wage or whether it will powered by low-wage workers. 
The politicization of EVs
At a campaign stop in September, former President Donald Trump peddled the theory that EV manufacturing will cripple the auto industry. In an effort to attract support from Michigan auto workers, Trump claimed that under Biden's proposed EV mandate "hundreds of thousands of American jobs…will be gone forever." Biden's push for more EVs, Trump says, will eliminate "40% of all U.S. auto jobs…in one or two years" and "will spell the death of the U.S. auto industry."
But, as Factcheck.org reports, it's unclear how Trump arrived at the figure of 40%. The number, the fact-checking organization says, "may be from Ford's CEO saying it takes 40% less labor to make an EV than a gas-powered vehicle" during a conference in November 2022. In the same remarks, however, Ford CEO Jim Farley explained that the company planned to preserve workers' jobs by producing more parts, like batteries, in-house. This would not only offset job losses, but was also necessary for the company to be competitive, Farley said. Just last month, Farley insisted that "for the foreseeable future we will have to hire more workers as some workers retire, in order to keep up with demand."
During the rally, Trump also complained that "People have no idea how bad [EV production] is going to be also for the environment" — an attempt, critics claim, to "drive a wedge between autoworkers and environmentalists." He specifically took issue with EV batteries. "You know, those batteries when they get rid of 'em and lots of bad things happen," he told the crowd. "And when they're digging it out of the ground to make those batteries, it's going to be very bad for the environment." 
But Trump's assertion distorts the environmental impacts of EVs. While some studies have shown that EV battery production emits more carbon pollution, EVs are overall still better for the planet. "The greenhouse gas emissions associated with an electric vehicle over its lifetime are typically lower than those from an average gasoline-powered vehicle, even when accounting for manufacturing" the U.S. Environmental Protection Agency says. Experts also note that the environmental costs of EV production will decrease "as battery production becomes cleaner" and "electricity generation moves away from coal," the New York Times reports.
Trump is not the only Republican presidential candidate to campaign against EVs. This month, Republican presidential candidate Vivek Ramaswamy said the push for EVs "is decidedly a step in an anti-American direction." Similarly, Florida Governor Ron DeSantis "recently railed against electric vehicles when he unveiled an energy policy platform that promised to roll back E.V. subsidies to 'support Americans' right to drive the cars they want.'" The Republican push to curb EV adoption can also be observed on the state level. In January, Wyoming legislators proposed a bill to "end electric vehicle sales…by 2035." Meanwhile, in Virginia, Governor Glenn Youngkin blocked plans for a Ford battery plant.