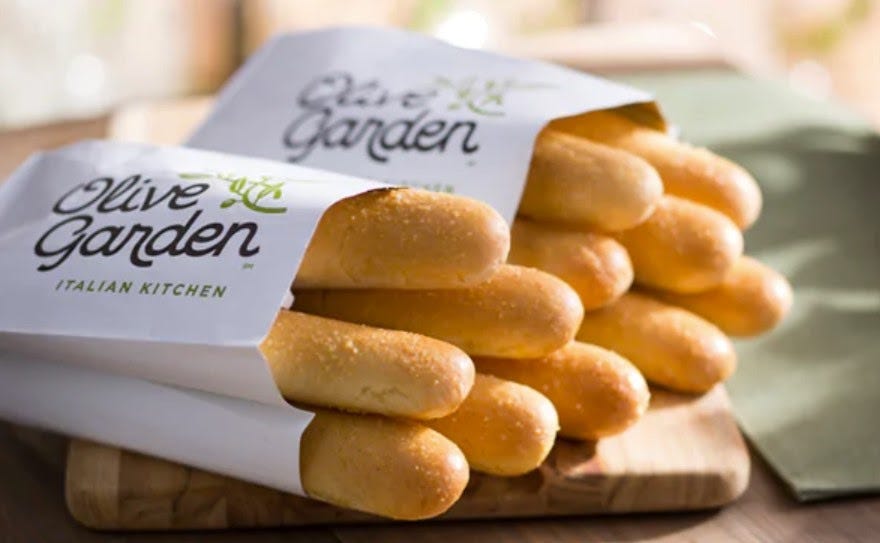 Yesterday's Popular Information was about Darden, which operates Olive Garden and numerous other restaurant brands across the United States. In total, Darden employs more than 170,000 restaurant employees across 1779 locations. The newsletter focused on the fact that, except where required by law, none of Darden's restaurant employees received paid sick leave. 
I spoke to numerous current and former Darden employees who shared horror stories about restaurant workers coming in sick because they couldn't afford to miss a shift. The issue had new urgency in light of the ongoing coronavirus outbreak. 
About 10 hours after the piece published, Darden announced it would provide paid sick leave to all its restaurant employees. It was a dramatic change for a company that, as recently as last month, was lobbying against paid sick leave legislation. 
Darden did not respond to Popular Information's questions last week. But on Monday afternoon, I received a phone call from Rich Jeffers, Darden's Senior Director for Communications. Jeffers let me know about the new policy and sent along the details. 
Effective today, Darden is providing Paid Sick Leave for every one of our hourly team members who are not covered by a policy today.

Sick leave will accrue at a rate of one (1) hour for every 30 hours worked.

Current team members have been granted a starting balance based on their most recent 26 weeks of work and can use this benefit immediately.

New team members will begin accruing sick leave upon hire and may use it after 90 days of employment.

Team members can carry over up to 40 hours each year with a maximum balance of 60 hours.

Pay rate will be based on the team member's 13-week average.
This doesn't solve all the problems for employees at Darden. And I'll be watching closely to see how this policy is implemented. But, for the 170,000 people who work at Olive Garden and other Darden restaurants, it's a step in the right direction. 
Darden's decision puts pressure on other companies to follow suit. The decision created national news. Here is how Bloomberg covered the story:
Darden Restaurants Inc., the operator of Olive Garden, Longhorn Steakhouse and other restaurants, announced Monday that the company is providing paid sick leave to all hourly workers who are not currently covered by a policy.

...While a lack of paid sick leave is common in the restaurant industry, Darden was singled out today by the newsletter Popular Information, which focuses on politics. The publication flagged that a lack of paid sick leave could put employees in the difficult position of being unable to meet expenses -- and therefore prompt them to work through sickness and contribute to the virus's spread.
It also shows that change is possible — not after the next election, but right now. Thank you for supporting Popular Information. 
Coronavirus scams spread on Facebook
On Monday, the Food and Drug Administration (FDA) and the Federal Trade Commission (FTC) issued warning letters to seven companies "for selling fraudulent COVID-19 products." The companies now must "respond in 48 hours describing the specific steps they have taken to correct the violations." The companies are promoting products "that claim to cure, treat or prevent" COVID-19. Currently, there are "no vaccines or drugs approved to treat or prevent COVID-19." Fraudulent products "may cause consumers to delay or stop appropriate medical treatment, leading to serious and life-threatening harm." 
The scams include "teas, essential oils and colloidal silver." And many of these fraudulent coronavirus products are currently being marketed on Facebook. 
Five of the seven federal government warning letters directly reference the company's Facebook page as a source of dangerous misinformation. Popular Information has confirmed a sixth company is also using Facebook to market a product it claims could prevent the coronavirus. 
Quinessence Aromatherapy, for example, had a page on its website titled "Essential Oils to Protect Against Coronavirus." 
There are a wide range of essential oils that have been clinically proven to possess antiviral properties. Whilst these essential oils do not all offer the same level of defence (sic), many have been proven to have a measurable effect on a wide range of infective agents such as influenza A and B, parainfluenza strains 1,2 & 3, vaccinia, herpes simplex and polio.
The FDA warned the company that "the claims cited above are not supported by competent and reliable scientific evidence," and the company "must immediately cease making all such claims." Shortly after the FDA released its warning letter, the page was removed from the Quinessence Aromatherapy website. But a Facebook page promoting Quinessence Aromatherapy as a way to prevent contracting coronavirus remained online.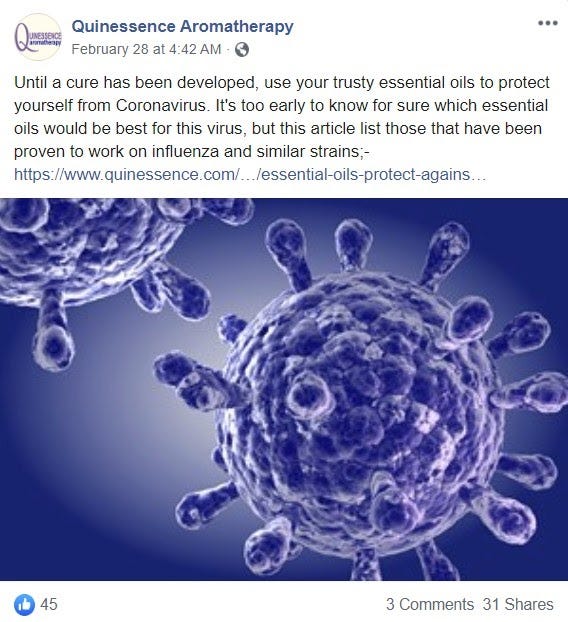 Another company cited by the FDA and the FTC was The Jim Bakker Show, a program hosted by televangelist and convicted fraudster Jim Bakker. He served four years in jail for fraud in the 1990s. His show is selling "Silver Sol Liquid," which a guest on Bakker's show claimed has been "tested on other strains of the coronavirus" and "within 12 hours, totally eliminate it, kills it, deactivates it."
The product is a form of Colloidal Silver, which "consists of tiny silver particles in a liquid." It is frequently marketed on the internet, but the FDA warns that "colloidal silver isn't safe or effective for treating any disease or condition." According to the NIH, Colloidal Silver can have "serious side effects," including "argyria, a bluish-gray discoloration of the skin, which is usually permanent." Bakker is currently offering a case of 12 bottles of Silver Sol on his website for $300.
As the FDA notes, Bakker's false claims about Silver Sol Liquid are being promoted on his Facebook page, which has over 36,000 followers. While Bakker appears to have removed some coronavirus content from his website, as of Monday afternoon, misinformation persisted on his Facebook page.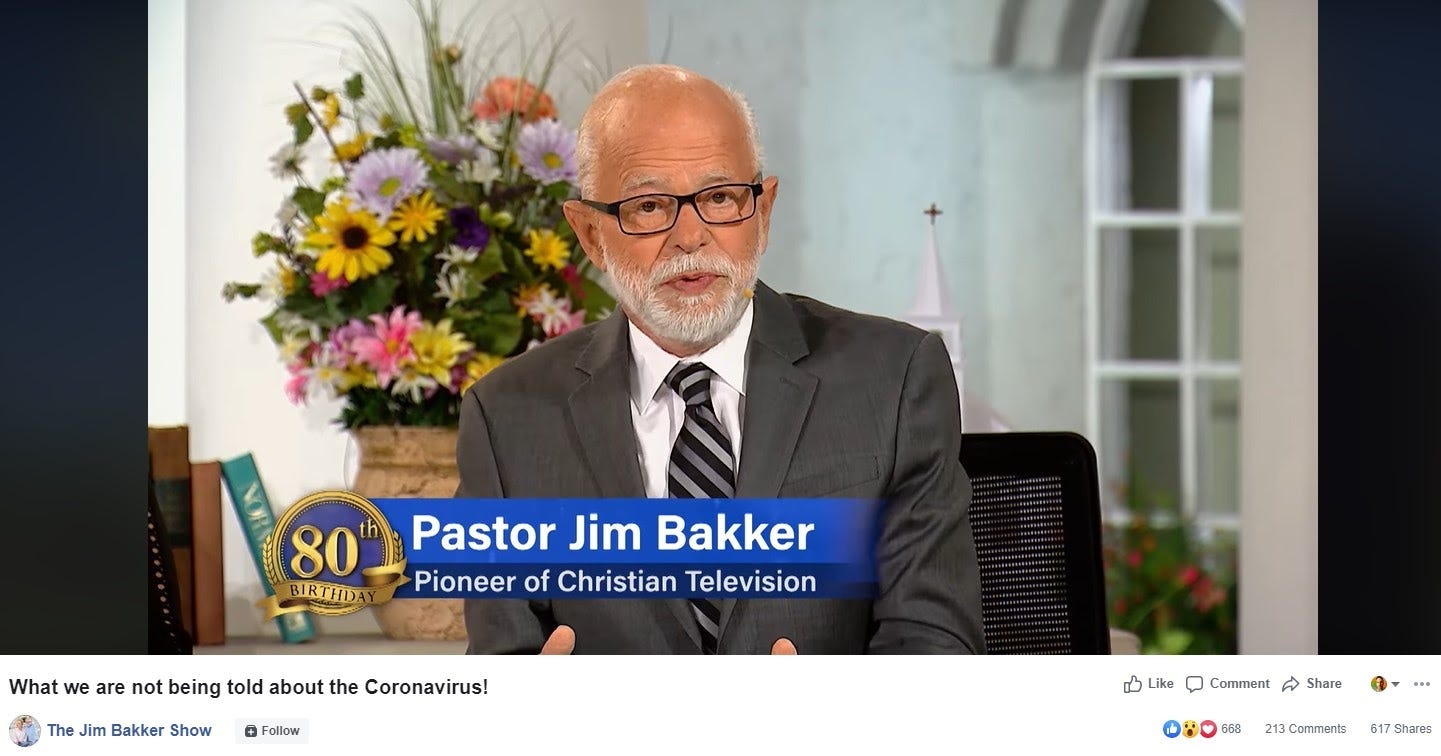 The persistence of coronavirus scams on Facebook illustrates its failure to effectively implement its policy, announced on January 30. 
We will also start to remove content with false claims or conspiracy theories that have been flagged by leading global health organizations and local health authorities that could cause harm to people who believe them. We are doing this as an extension of our existing policies to remove content that could cause physical harm. We're focusing on claims that are designed to discourage treatment or taking appropriate precautions. This includes claims related to false cures or prevention methods — like drinking bleach cures the coronavirus — or claims that create confusion about health resources that are available.
In a March 3 Facebook post, CEO Mark Zuckerberg said the company was "focused on stopping hoaxes and harmful misinformation." But Facebook was not able to prevent its platform from being a marketing vehicle for six of the seven scams flagged by the FDA and FTC.
Monday night, Facebook sent the following statement to Popular Information:
We have policies against promoting harmful hoaxes related to COVID-19 on our platforms and removed several pieces of content shared by these companies for violating them. We're continuing to review pages of companies we suspect might be engaged in this type of behavior.
Neither the Quinessence Aromatherapy post nor the Jim Bakker video discussed above, however, were removed.
Misinformer-in-chief
It's not just scamsters that are providing misinformation to the public about coronavirus. It's also the President of the United States. 
On Monday, Trump said the coronavirus was a smaller problem than the seasonal flu, and "[n]othing is shut down, life & the economy go on." Trump's statements ignore that the fatality rate for the coronavirus is exponentially higher than the flu — and there is no coronavirus vaccine. While the number of confirmed coronavirus cases is in the hundreds, a viral epidemic can expand quickly. 
By downplaying the risks of the coronavirus, Trump's statements may encourage Americans not to take simple steps — like increased attention to hygiene and social distancing — that could limit the spread of the virus. 
On Monday, the number of confirmed cases of coronavirus in the United States topped 600, the number of fatalities reached 22, and the Dow Jones plunged 2000 points. But these were the top five coronavirus-related posts on Facebook:
Facebook has created a platform where pro-Trump propaganda can flourish, but important information on issues like the coronavirus reaches a smaller audience. 
This messaging is having an impact, at least among Trump's Republican base. A new poll by Quinnipiac University finds that 63% of Republicans are "not so concerned or not concerned at all" that the coronavirus will disrupt their daily life. A similar number of Republicans are not worried that they or someone they know will contract the coronavirus. 
---
Thanks for reading!