UPDATE: Kroger's $21 million man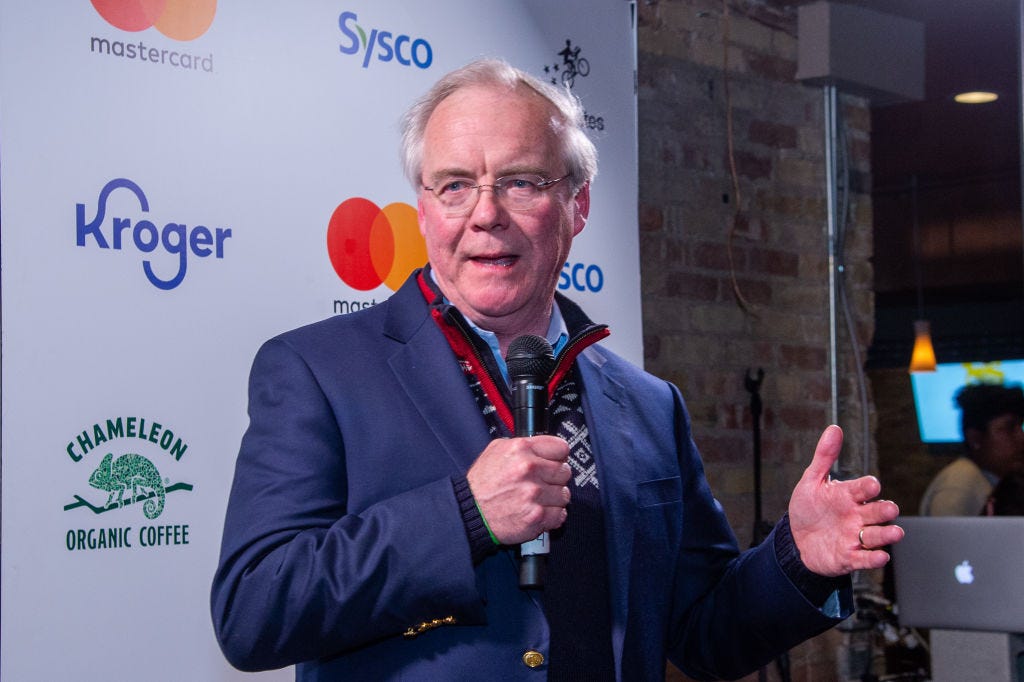 Kroger CEO Rodney McMullen on January 26, 2020, in Park City, Utah. (Photo by Mark Sagliocco/Getty Images for ChefDance)
Kroger, the nation's largest supermarket chain, is barreling ahead with plans to revoke its $2 per hour increase for frontline workers. The company called the increase a "hero bonus" intended to compensate employees for continuing to work during a pandemic. But as this bonus is being phased out, suggesting a return to normal operations, Kroger employees continue to die of COVID-19.
On Monday, the Detroit Free Press reported that James Andres, a 60-year-old Kroger cashier, had died after contracting the virus. 
Most recently, Andres worked on the front lines of service during the coronavirus pandemic as a cashier at Kroger in Westland. He had taken that job only recently in March, his sister said.

Andres took great joy in a lifetime of giving and entertaining those around him.

He had built long lasting friendships in accounting and acting. He had starring roles at several community theaters, including St. Dunstan's Theatre Guild of Cranbrook in Bloomfield Hills. He is fondly remembered for one of his first roles as Linus in "You're a Good Man, Charlie Brown" at St. Florian High School in Hamtramck in 1974.  
Andres is at least the fifth Kroger employee in Michigan to die from COVID-19. 
On Tuesday, Kroger confirmed that a manager at its store in Tennessee has died after contracting COVID-19. "We were deeply saddened by the passing of one of our Kroger family members who worked at one of our stores in Murfreesboro, TN. We are mourning along with the family during this extraordinarily difficult time," a Kroger spokesperson said. "And we are continuing to take steps to support and safeguard our associates and customers."
Nevertheless, Kroger CEO Rodney McMullen is planning to cut the pay for people who are putting their lives at risk. New documents filed with the SEC on Tuesday reveal that McMullen and other top executives — who are working safely at home — just received multi-million dollar payouts. 
McMullen's massive compensation package
A proxy statement for Kroger's 2020 shareholders meeting reveals McMullen's compensation in 2019. McMullen received $21,129,648 in total compensation for that year. Much of that was awarded as a bonus in March 2020. 
Other top executives also had huge paydays. Chief Operating Officer Michael Donnelly was paid $10,329,684, nearly doubling his compensation from 2018. J. Michael Schlotman, who retired in April 2019 as Chief Financial Officer, was paid $8,467,423. Schlotman's replacement, Gary Millerchip, was paid $4,142,280.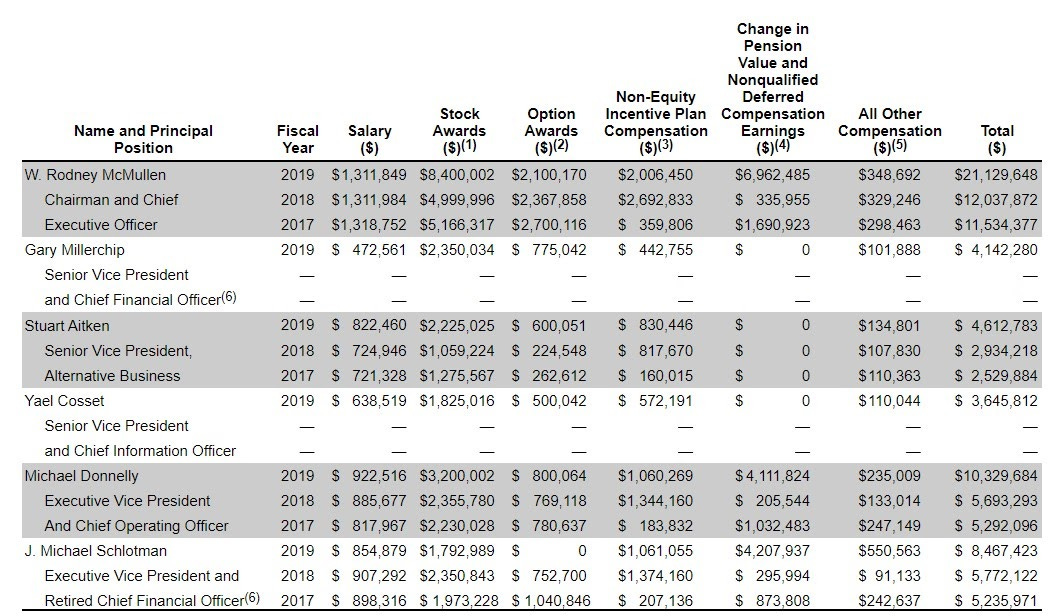 The compensation packages for McMullen and other top executives are so elaborate that the company paid an outside consultant $523,769 "to advise the Compensation Committee in the design of Kroger's executive compensation" last year. 
In 2019, the median Kroger employee earned $26,790. Kroger was required to disclose that "the ratio of our CEO's annual total compensation to that of our median employee for fiscal 2019 was 789 to 1." In 2018, the ratio was 483 to 1. 
---
Accountability journalism isn't about publishing one story and moving on. It's about relentlessly pursuing the truth and challenging the powerful. You can support this work by becoming a paid subscriber. It's just $50 per year. 
There aren't any ads in Popular Information. This is important because it allows this newsletter to be completely independent. But it also means Popular Information is only possible with the support of readers like you.
---
McMullen's incentive to cut worker pay
Kroger says its executive compensation is "performance-based." But McMullen was paid over $20 million despite failing to meet the goals in several key areas, including internal customer or employee satisfaction. 

How did McMullen get paid more than $20 million despite these failures? The experience of customers and employees only accounted for a small percentage of his bonus. A much larger percentage of pay is tied to generating "free cash flow," some of which is distributed to shareholders via dividends. Kroger generated $3.59 billion in cash from 2017 to 2019. 
Moving forward, Kroger is eliminating the metrics related to customers and employees completely. Half of McMullen's 2020 bonus will be tied to him creating a total of $6.5 billion in free cash flow from 2018 to 2020. 
So by cutting pay for hundreds of thousands of Kroger employees now, McMullen creates more free cash flow for the company. That gives McMullen, and the other top executives, a better chance of receiving the maximum possible bonus.
The ongoing danger
While the rollback of the $2 per hour hero bonus suggests that the company believes the risk level has returned to normal, it is not taking that approach with its board of directors, executives or shareholders. The 2020 annual meeting, which will not take place until June 25, will be completely virtual to protect the "safety" of the participants. 
The Annual Meeting will be held virtually… There is no physical location for the Annual Meeting of Shareholders... In light of the COVID-19 pandemic, for the safety of all of our shareholders, associates, and community, our 2020 Annual Meeting is being held on a virtual-only basis with no physical location.
The form of the meeting indicates that the company believes there is an elevated risk of person-to-person interaction until at least the end of June. 
Unions and activists turn up the heat
The United Food and Commercial Workers (UFCW) has organized many, but not all, of Kroger's stores. UFCW Local 400 has been especially active in pushing the company to extend the hero bonus for the length of the pandemic. Mark Federici, President of UFCW Local 400, issued this statement on Tuesday:
Our members have risked their lives and the lives of their families to continue coming to work to serve customers through this crisis. The danger they face everyday is still present, and with no vaccine in sight, will continue to be for quite some time. These heroes deserve to be compensated for the service they continue to provide to the community.

While other businesses have shuttered as a result of this pandemic, the grocery industry is booming. Kroger workers achieved a remarkable 30% increase in identical store sales in March, a trend we expect will continue in April and May. Now is not the time to cut wages for heroes on the frontlines. These heroes deserve to share in the financial success they have created for Kroger.
The Local 400 has also launched a petition demanding Kroger extend "hero pay." The online activist group Sleeping Giants is also organizing a letter-writing campaign. 
---
Thanks for reading!