UPDATE: Spectrum moves to improve working conditions for cable technicians
On Monday, Popular Information reported that Spectrum, the telecommunications giant that provides cable and internet service to 29 million customers, was failing to take basic steps to keep its workers safe during the COVID-19 outbreak. Among other things, the company was sending technicians into cramped New York City apartments without basic equipment to protect themselves.
On Wednesday, Spectrum's Executive Vice President for Field Operations, Tom Adams, sent out a message outlining new steps the company was taking to improve working conditions for technicians. The email was obtained by Popular Information.
Significantly, Adams said Spectrum would implement a number of policies designed to keep technicians out of customer's homes. The company will "increase self-installation in all sales channels as quickly as possible," ship equipment to customers by default, and "review all trouble calls" to maximize resolution "outside the home."
Spectrum also says it has "secured access to hand sanitizer as well as gloves." These supplies, however, won't be available in the field for a "few weeks."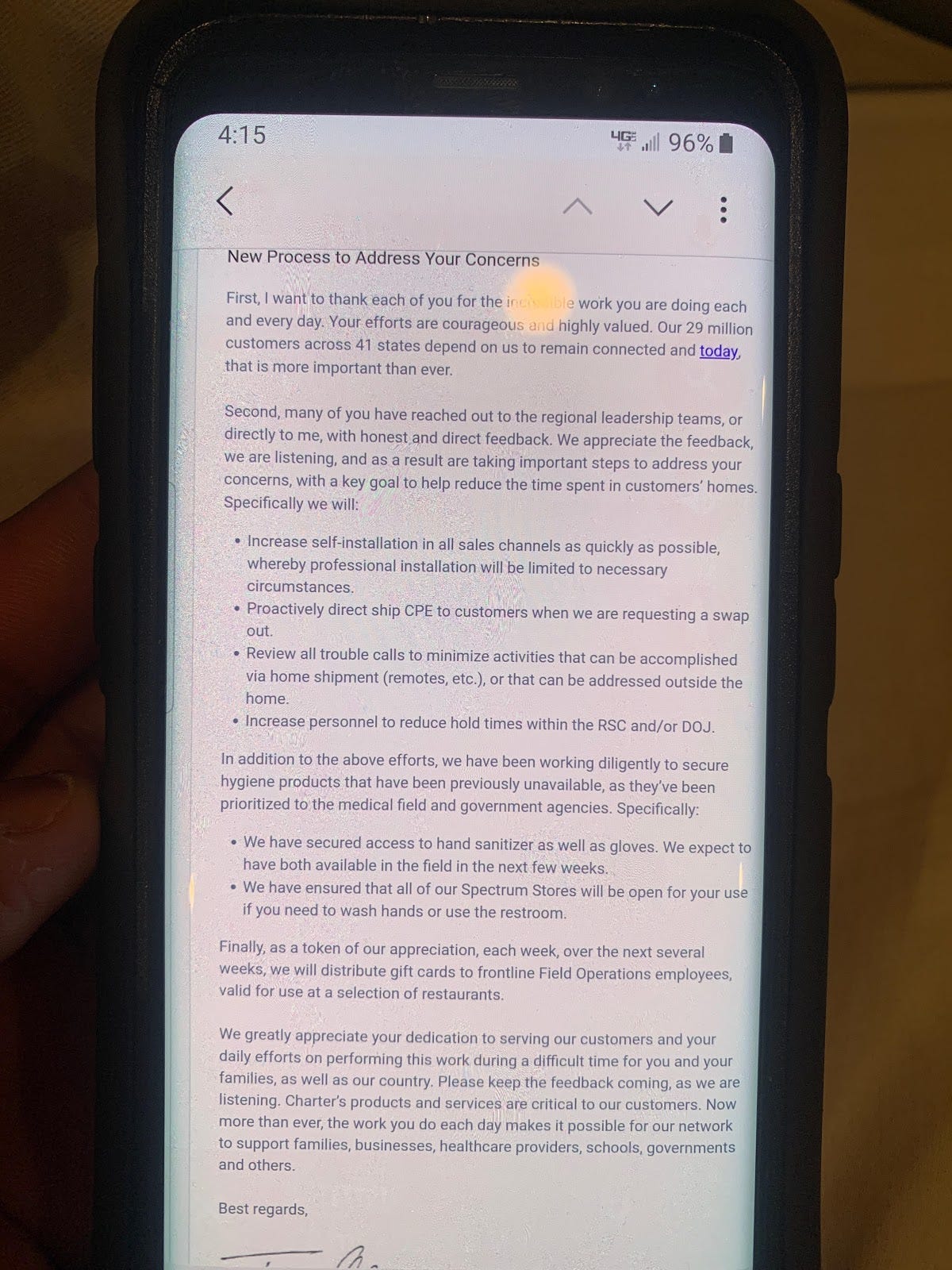 Other aspects of Spectrum's response, according to some employees, were "insulting." Adams said that "as a token of appreciation," it would distribute "gift cards… valid for use at a selection of restaurants." It's a strange gesture to make at a time when most restaurants are closed. Spectrum employees told Popular Information that they want a pay raise, not a gift card.
But the email shows that Spectrum is finally taking its employees' concerns seriously and is taking some initial steps to improve their working conditions and protect their safety.
---
Independent accountability journalism is a powerful force. In addition to Spectrum, Popular Information's reporting this month has precipitated significant improvements for hundreds of thousands of workers at Kroger and Olive Garden.
You can support this work — and help Popular Information do more of it — by becoming a paid subscriber. It's $6 per month or $50 per year.
There are no advertisers or wealthy donors behind this newsletter. It's only possible because of readers like you.
---