Discover more from Popular Information
Independent accountability journalism.
Over 295,000 subscribers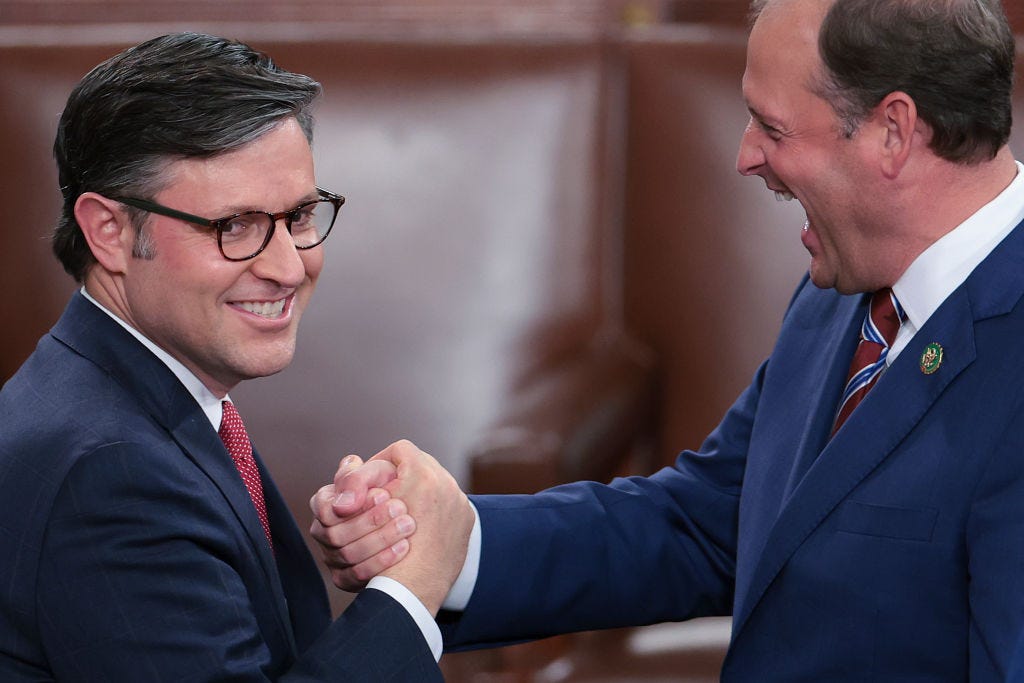 Last Wednesday, Republicans selected Congressman Mike Johnson (R-LA) as the next Speaker of the House. Johnson is the most radical member ever selected as Speaker, championing a host of far-right causes. Some experts describe Johnson's views as emblematic of Christian nationalism, "a cultural framework that advocates for a particular expression of Christianity to be fused with American civic life, with the government vigorously promoting and preserving this version of Christianity." 
Here are some highlights of Johnson's views:
1. Johnson believes same-sex relationships should be a crime. Johnson has railed against the existence of LGBTQ relationships, calling such relationships "inherently unnatural" and "harmful and costly to everyone." He opposed the Supreme Court's 2003 decision in Lawrence v. Texas, which struck down a law criminalizing private sexual activity between two people of the same sex. "States have many legitimate grounds to proscribe same-sex deviate sexual intercourse," Johnson wrote. "By closing these bedroom doors, they have opened a Pandora's box." According to Johnson, "if someone's trapped in a homosexual lifestyle, it's dangerous." Johnson also opposes the Supreme Court's 2015 decision in Obergefell v. Hodges that required states to recognize same-sex marriages. He described same-sex marriages as "counterfeit legal arrangements." In 2022, as a member of Congress, Johnson introduced the Stop the Sexualization of Children Act, which would prohibit the use of federal funds for any instruction to children under 10 that mentions LGBTQ people. It is effectively a national version of the "Don't Say Gay" law championed by Florida Governor Ron DeSantis (R).

2. Johnson believes abortion should be outlawed nationwide. In 2021, Johnson told a legislative committee in Texas that "when a woman is pregnant, science tells us that the new life she carries is a completely separate and full new human being from the moment of fertilization." (That is not a statement supported by science.) In January 2023, Johnson co-sponsored the "Life at Conception Act," which would effectively ban all abortions. The bill would grant every "preborn human person" equal rights under the 14th Amendment from "the moment of fertilization." He has also co-sponsored legislation that would ban abortion nationwide after the so-called "fetal heartbeat" is detected, usually after about six weeks. The only exception would be for "an abortion that is necessary to save the life of a mother."

3. Johnson aggressively promoted the lie that Trump won the 2020 election. Johnson played a key role in seeking to overturn the 2020 presidential election. Johnson recruited House Republicans to sign an amicus brief supporting a Texas lawsuit urging the Supreme Court to invalidate the election results in Georgia, Pennsylvania, Wisconsin, and Michigan. Johnson "sent an email from a personal email account in 2020 to every House Republican soliciting signatures for" the brief, stating that Trump "specifically asked me to contact all Republican Members of the House and Senate today and request that all join on to our brief." Johnson posted on Twitter, now called X, that "President Trump called me this morning to let me know how much he appreciates the amicus brief we are filing on behalf of Members of Congress. Indeed, 'this is the big one!'" 
As the new House Speaker, Johnson will be expected to raise hundreds of millions of dollars for the National Republican Congressional Committee, and the Congressional Leadership Fund, the House Republican's Super PAC. The purpose of the money is to keep Republicans in power and give Johnson an opportunity to advance his agenda. The two groups raised a combined $550 million last cycle. 
According to Politico, Jeff Miller, a corporate lobbyist close to former speaker Kevin McCarthy (R-CA), will begin fundraising for Johnson. There is reportedly "a mad dash of K Street denizens elbowing to get close to the new speaker." But will corporations that publicly claim they support LGBTQ rights and reproductive healthcare — and opposed the efforts to overturn the 2020 election — bankroll Johnson's efforts to stay in power? 
That remains to be seen. But, despite Johnson's radical views, several prominent corporations backed Johnson before his ascension to power. 
Walmart backs Mike Johnson
Walmart publicly presents itself as a champion of LGBTQ rights. In a 2022 posting on its corporate website, "Pride Every Day: Supporting LGBTQ+ Associates and the Communities We Serve," Walmart Chief People Officer Donna Morris emphasized the centrality of LGBTQ inclusion to its business:
Everything we do at Walmart is through the lens of Respect, Service, Excellence and Integrity. It is essential that our LBGTQ+ community is represented and treated through the lens of our values. We take pride in the steps we are taking to ensure everyone is included and belongs at Walmart. Because belonging begins with us.
Walmart also sells and promotes products, many featuring rainbows, from LGBTQ-founded brands. 
After the Supreme Court overturned Roe v. Wade, Walmart took steps to preserve abortion access for its employees. It announced that it would expand coverage of abortions in its healthcare plans and "assist in covering travel expenses for employees seeking healthcare services that were not available within 100 miles of their homes." The move recognized abortion coverage as part of comprehensive healthcare for women. 
And after January 6, Walmart made this announcement: "In light of last week's attack on the U.S. Capitol, Walmart's political action committee is indefinitely suspending contributions to those members of Congress who voted against the lawful certification of state electoral college votes."
None of that, however, has stopped Walmart from financially backing Johnson. Since 2017, Walmart's corporate PAC has donated $9,000 to support Johnson's campaigns, including $4,000 after January 6, 2021.
AT&T backs Johnson
Like Walmart, AT&T also responded to the Supreme Court's decision overturning Roe by announcing it would reimburse employees for abortion-related travel. "The health of our employees and their families is important to our company," the company said, acknowledging that abortion rights are a critical part of health care. 
Support for LGBTQ rights is also a central part of AT&T's corporate identity. AT&T's website states that it is "committed to standing behind the LBGTQ+ community" and that it "support[s] organizations and projects that strengthen the LGBTQ+ community." 
After January 6, 2021, AT&T said, "our Federal PAC Board convened a call today and decided to suspend contributions to members of Congress who voted to object to the certification of Electoral College votes this week."
Yet, since 2017, AT&T's corporate PAC has donated $21,000 to Johnson, including $5,000 after January 6, 2021. 
Meta backs Johnson
After January 6, 2021, Meta, then known as Facebook, said: "Following last week's awful violence in D.C., we are pausing all of our PAC contributions." The company said that the freeze would last "for at least the current quarter" to facilitate a review of its policies around political donations. 
Meta has also embraced LGBTQ rights. In October 2022, for example, the company stated on its primary Facebook page, which has 182 million followers, that LGBTQ History Month was a reminder of "the generations of queer people all around the world who fought for equality and acceptance."  
And after the overturning of Roe, Meta said it would support employees who needed to travel to obtain an abortion. "We intend to offer travel expense reimbursements, to the extent permitted by law, for employees who will need them to access out-of-state health care and reproductive services," a Meta spokesperson said.
But Meta has donated $4,000 to Johnson's campaigns, including a $2,000 donation on September 23, 2023. 
Microsoft backs Johnson
Microsoft enthusiastically backs LGBTQ rights. "Our efforts to support and advocate for LGBTQIA+ people do not start or end at Pride," the company said in a June 1, 2023 press release. "By supporting our employees through global advocacy, charitable giving and better workplace practices, we hope to make a difference for LGBTQIA+ communities and beyond, as our drive for positive global impact continues."
In anticipation of the overturning of Roe, the company announced in May 2022 that it would pay for employee travel for abortion or gender-affirming medical care, both of which Microsoft described as examples of "critical health care." 
The company also forcefully rejected the legislators who voted to overturn the 2020 election. Microsoft said it would "suspend contributions for the duration of the 2022 election cycle to all members of Congress who voted to object to the certification of electors." Further, the company pledged to "promote and join a conversation with other businesses and organizations that want to strengthen democracy." 
Nevertheless, Microsoft has donated $8,500 to Johnson's campaigns, including a $2,500 donation on June 28, 2023.
Other major corporate backers of Johnson
Other corporate backers of Johnson include Boeing ($10,000), Capital One ($1,000), Charter ($20,000), Chevron ($21,500), Cox Enterprises ($22,000), Koch Industries ($30,500), National Association of Realtors ($19,000), and Verizon ($4,000).