UPDATE: More Facebook ads promote violence against protesters
On Thursday, Popular Information reported that a Georgia Congressional candidate, Paul Broun, released a Facebook ad urging people to use their "Liberty Machines" to take care of "looting hordes from Atlanta." After Facebook was contacted by Popular Information, Facebook removed the ad, agreeing that the ad violated the company's ban on advocating violence. But, by that time, the ad had run for five days and reached over 50,000 Georgia voters.
Soon thereafter, Popular Information contacted Facebook about an ad by another Georgia Congressional candidate, Marjorie Taylor Greene. In the ad, Greene cocks a semi-automatic rifle while she delivers a message to "ANTIFA terrorists": "Stay the hell out of Northwest Georgia."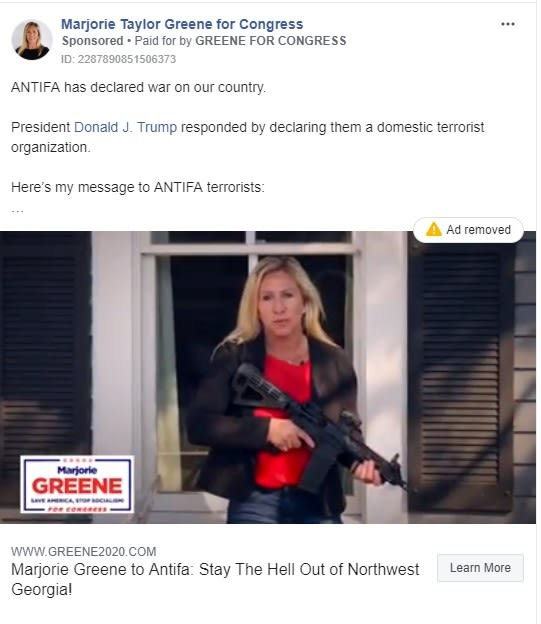 A few hours later, the ad was removed. By that time, Greene's ad had been shown 50,000 times to Facebook users in Georgia. 
The pattern was repeated again on Friday. Popular Information contacted Facebook about two ads from t-shirt companies encouraging lethal violence against protesters. "Everybody Looty Until The Roofs Start To Shooty," the t-shirts said, along with a photo of snipers on a roof during the 1992 Rodney King riots.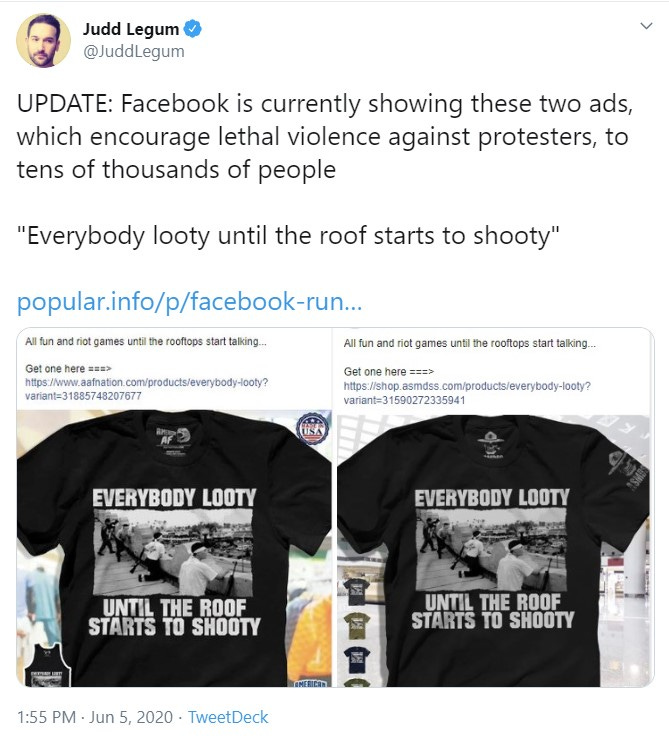 The next day, Facebook removed the ads — but not before they were shown to around 200,000 people. 
It raises the question of why Facebook, a company that turned a $4.9 billion profit in the first three months of 2020, is not able to enforce its own rules against promoting deadly violence. 
---
Popular Information produces independent accountability journalism that holds powerful corporations accountable. You can support this work with a paid subscription. It's $6 per month or $50 per year. 
---
Zuckerberg's second thoughts
Last week, Popular Information reported on a staff mutiny at Facebook over Zuckerberg's decision not to take down a Trump post that advocated violence against "looters." Despite the objection of the majority of staff, Zuckerberg stood firm. In a call with staff, Zuckerberg falsely claimed that the phrase used by Trump — "when the looting starts, the shooting starts" — "has no history of being read as a dog whistle."
Now, it appears Zuckerberg is having some regrets. In a note to staff that he shared on his Facebook page, Zuckerberg promised to reconsider its policy about violent threats from state actors. "We're going to review our policies allowing discussion and threats of state use of force to see if there are any amendments we should adopt," Zuckerberg said.
This is somewhat disingenuous because there is no written exemption to Facebook's ban on advocating violence for state actors. As Zuckerberg himself acknowledged on his call with staff, Facebook has taken down posts advocating violence by state actors in other countries.  
Zuckerberg also said Facebook would "review our policies around voter suppression to make sure we're taking into account the realities of voting in the midst of a pandemic." This comes after Facebook decided to allow Trump posts that falsely described absentee ballots being sent to voters as "illegal." This appeared to be in direct violation of Facebook's rule prohibiting misinformation about voting methods.
Whether Facebook's reviews of various policies will amount to anything is an open question. But it does show that Zuckerberg is feeling the heat after repeatedly declining to enforce Facebook's rules against Trump. 
---
Shameless in Iowa
Iowa's Republican Secretary of State, Paul Pate, sent absentee ballot applications to every registered voter in the state in advance of the June primary. The result was record participation in the election, even though it took place during a global pandemic. In Iowa's Linn County, for example, "nearly 85% of all votes cast came in via absentee."
Now, Iowa Republicans in the state legislature want to make sure it doesn't happen again. They have attached a "30-page amendment" to a "one page bill dictating the use of county seals." Among other provisions, the amendment would bar the Secretary of State from sending absentee ballot applications to anyone who did not specifically request one. That means Pate could not send ballots to every voter before the November general election.
Trump has been arguing that mail-in voting facilitates widespread fraud. "There is NO WAY (ZERO!) that Mail-In Ballots will be anything less than substantially fraudulent. Mail boxes will be robbed, ballots will be forged & even illegally printed out & fraudulently signed," Trump tweeted last month.
This is contradicted by the data, as the Washington Post reported Monday:
[A] Washington Post analysis of data collected by three vote-by-mail states with help from the nonprofit Electronic Registration Information Center (ERIC) found that officials identified just 372 possible cases of double voting or voting on behalf of deceased people out of about 14.6 million votes cast by mail in the 2016 and 2018 general elections, or 0.0025 percent.

The figure reflects cases referred to law enforcement agencies in five elections held in Colorado, Oregon and Washington, where all voters proactively receive ballots in the mail for every election.
A database maintained by the right-wing Heritage Foundation, which opposes expanding mail-in voting, shows 204 instances of potential absentee ballot fraud over the last 20 years. During that time, more than a quarter-billion ballots were cast by mail. That is "one six-millionth of one percent of all votes." To put that in perspective, "[o]n a 100-mile road, a six-millionth of a percent is less than half an inch."
There is no evidence any fraud occurred during Iowa's June primary. But Trump's allies in the state legislature are taking up the president's cause anyway. 
Pat Grassley, the Republican Speaker of the Iowa House, said the purpose of the amendment was to provide "clarity" about the process. Pate defended his decision to mail ballot application, saying that, as a result, Iowans did "not let COVID-19 prevent them from voting." 
The amendment also expands "voter ID requirements," giving credence to complaints from Democrats that the purpose of the amendment is voter suppression. 
Republicans may be concerned that high participation could turn the state blue. The most recent poll of Iowa, which concluded May 1, found Trump leading Biden by 2%. In 2016, Trump beat Hillary Clinton by nearly 10 points. 
---
Correction: Due to a database error, yesterday's Popular Information misstated the amount donated to Tom Cotton by Coca-Cola's PAC. Coca-Cola's PAC donated $2,500, not $19,500. I regret the error. 
---
Thanks for reading!