Discover more from Popular Information
Independent accountability journalism.
Over 295,000 subscribers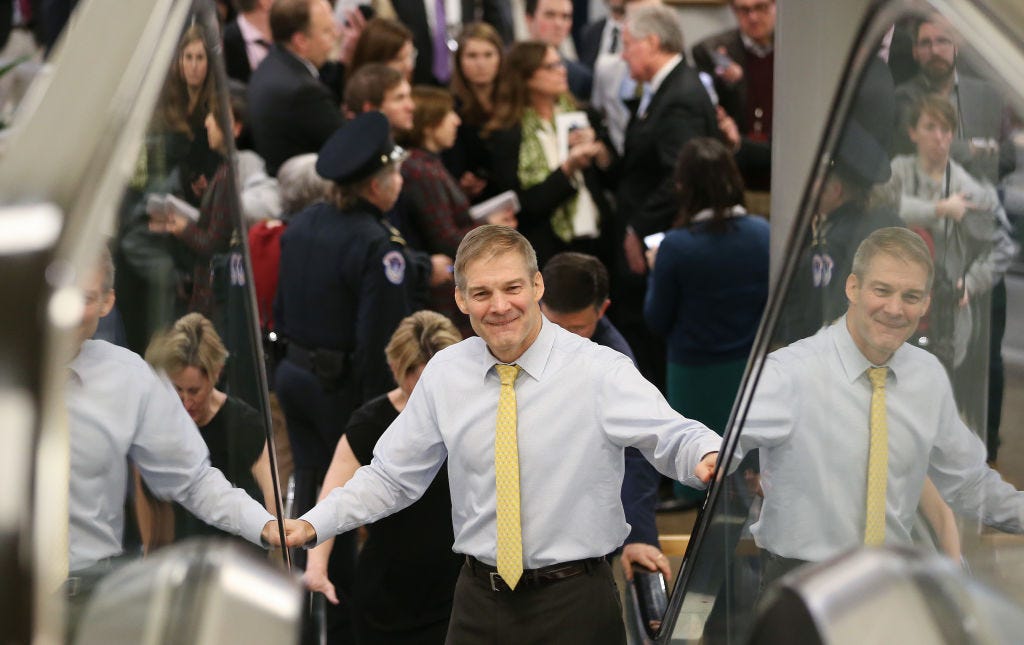 On Tuesday, Republicans came close to making Congressman Jim Jordan (R-OH), a key player in the effort to overturn the 2020 presidential election, the next Speaker of the House. Jordan received 200 votes — 17 fewer than he needed. Still, the overwhelming majority of the Republican caucus, including many self-described moderates, supported making Jordan their leader. A second vote is scheduled today.
Jordan has emerged as a leading candidate to be the next House Speaker even though he was a "significant player" in former President Trump's efforts to overturn the election, according to the bipartisan January 6 Committee. Jordan's efforts started even before Election Day, as he regularly attacked mail-in voting and other election procedures. "Democrats are trying to win the election after the election! We can't let them steal it," Jordan tweeted on September 23, 2020. The tweet included a link to a report that falsely argued mail-in voting increases the risk of election fraud. 
Jordan intensified these efforts after Trump lost the election on November 3, 2020. On November 5, Jordan spoke at a "Stop the Steal" rally at the Pennsylvania State Capitol. The following day, Jordan met with senior White House officials to discuss strategies to overturn the election, the New York Times reported. According to the January 6 Committee's report, Jordan "participated in numerous post-election meetings" where attendees "discussed strategies for challenging the election, chief among them claims that the election had been tainted by fraud." Throughout November and December, Jordan continued to promote false claims of election fraud and repeatedly called for an investigation into "election integrity."
On January 2, 2021, Jordan "led a conference call in which he, President Trump, and other Members of Congress discussed… issuing social media posts encouraging President Trump's supporters to 'march to the Capitol' on the 6th," the Committee said. In the days before the attack on the Capitol, Jordan was in close contact with Trump, then-Chief of Staff Mark Meadows, and Trump's lawyer Rudy Giuliani. He also called on Republicans to vote against Biden's certification in TV appearances. "[President Trump] has fought for us, the American people… It's time for us to fight for him and the Constitution," Jordan said in a Newsmax TV interview on January 4.
On the morning of January 6, Jordan declared that the Constitution and country are "at stake." Call records indicate that Jordan spoke on the phone with Trump at least twice that day. The former president gave Jordan a shout-out as he addressed supporters near the White House. Meanwhile, on the House floor, Jordan sought to challenge Biden's win.
"Americans instinctively know there was something wrong with this election," Jordan said. "Eighty million Americans, 80 million of our fellow citizens, Republicans and Democrats, have doubts about this election; and 60 million people, 60 million Americans think it was stolen." 
Jordan eventually called for the violence that ensued to stop, but, in the days and months that followed, he absolved Trump of any responsibility. Instead, he blamed then-House Speaker Pelosi (D-CA) for stopping the National Guard from intervening. Multiple fact-checkers, however, have debunked this claim. Jordan also attempted to equate the insurrection to racial justice protests.
Following the January 6, the lawmaker attempted to backtrack prior comments. On January 12, Jordan falsely claimed that he "never said that this election was stolen." In February, Jordan called for an investigation into the election outcome. He did it again in May: "There are millions of Americans who have concerns about what happened in this last election. I've never said this election was stolen. All I've said was, 'Let's check it out!'" Jordan said, during an interview. 
Earlier this month, Trump endorsed Jordan for House Speaker. The Washington Post reported that Jordan "refused to say" this week if he believed Trump won the 2020 election. The New York Times noted that Jordan was working with right-wing activists to win over Republican holdouts. Among those was Amy Kremer, a Republican operative who helped organize the January 6 "Stop the Steal" rally.
The corporations backing Jordan
After the Capitol insurrection on January 6, hundreds of major corporations pledged to stop donating to the 147 Republicans who voted to overturn the election. Soon after making these pledges, many corporations broke their commitments. But corporations generally resumed their contributions to members that voted to overturn the election but did not directly conspire with Trump. Recently, however, several major corporations, including AT&T, Comcast, Intel, and Mastercard, have resumed donations to Jordan.
Mastercard
Mastercard released a statement after January 6 saying, "Simple decency and sober reflection require us to account for the events in Washington this past week -- not just the lawless violence, but also elected United States representatives seeking to subvert the decision of the people in the recent Presidential election. In our political system, nothing is more important than the smooth transition of power when voters have spoken. Accordingly, effective immediately, we have suspended Political Action Committee giving to member of Congress (House of Representatives and Senate) who voted to object to the certification of the 2020 Presidential election. We will continue to review the criteria that inform our political contributions to ensure they reflect our values."
Mastercard has donated $1,000 to Jordan this year.
AT&T 
Following the Capitol insurrection on January 6, AT&T released a statement saying, "Employees on our Federal PAC Board convened a call today and decided to suspend contributions to members of Congress who voted to object to the certification of Electoral College votes this week." 
AT&T's pledge did not last long. The company resumed donations to Republican objectors in January 2022. When asked by the Texas Tribune about resuming donations to election objectors, AT&T said that the employee PAC donated to both Democrats and Republicans focusing "on policies and regulations that are important to investing in broadband networks," adding that "[a] contribution to an elected official does not mean our employee PACs support or agree with every position the official takes." 
AT&T justified its decision to resume donations to Republicans who voted to overturn the election by arguing that its "employee PAC suspended contributions to those lawmakers' campaigns for more than a year." In reality, AT&T began finding ways around the pledge almost immediately, by donating money indirectly to Republican multicandidate PACs that supported the reelection of Republican objectors. 
AT&T has donated $3,000 to Jordan this year.
Comcast
After January 6, Comcast pledged to "suspend all of our political contributions to those elected officials who voted against certification of the electoral college votes, which will give us the opportunity to review our political giving policies and practices." In a statement, Comcast condemned the January 6 insurrection, saying, "The peaceful transition of power is a foundation of America's democracy… This year, that transition will take place among some of the most challenging conditions in modern history and against the backdrop of the appalling violence we witnessed at the U.S. Capitol last week. At this crucial time, our focus needs to be on working together for the good of the entire nation."
Comcast has donated $5,000 to Jordan this year.
Intel
After January 6, Intel pledged to "not contribute to members of Congress who voted against certification of the Electoral College vote as we feel that action was counter to our company's values." 
Intel has donated $2,000 to Jordan this year.
Popular Information asked these four companies what Jordan has done since January 6 to alleviate concerns about donating to his campaign. None of the companies responded.
CORRECTION: A previous version of this article stated that AT&T donated $4,000 to Jordan this year. The company actually donated $3,000.