Discover more from Popular Information
Independent accountability journalism.
Over 295,000 subscribers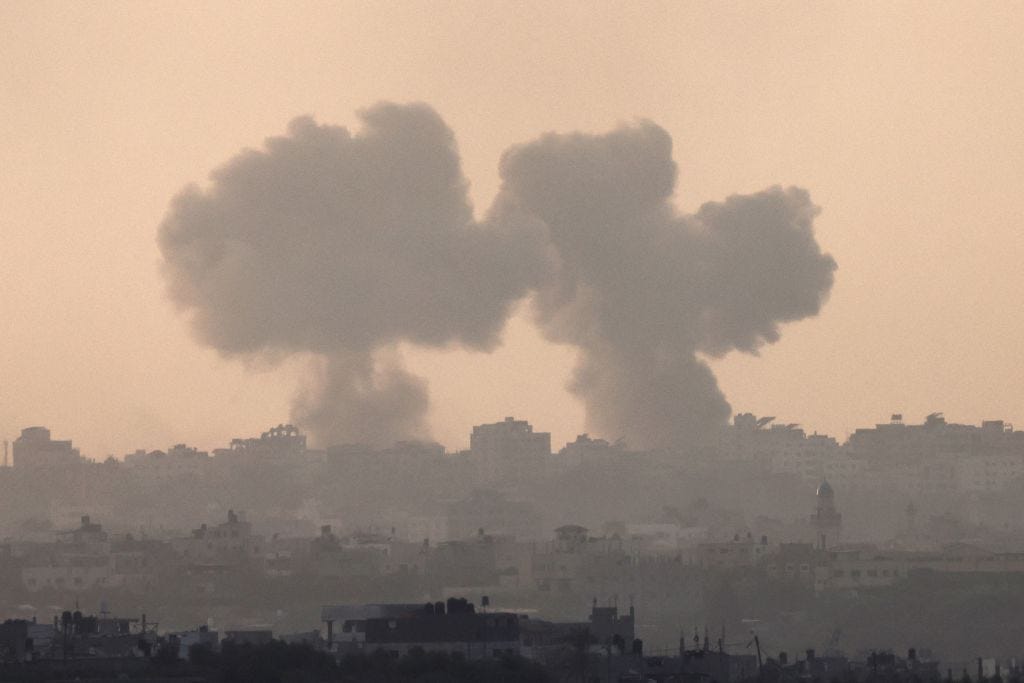 After the terrorist attacks of September 11, 2001, which killed 2,977 victims, there was a tremendous and justifiable desire for the government to take action against those responsible. On October 7, 2001, the United States and its allies launched "Operation Enduring Freedom." By mid-November, through an extensive bombing campaign and ground invasion, United States-led forces were able to topple the Taliban government, which harbored the Al Qaeda terrorists responsible for the 9/11 attacks. The United Nations was brought in to help establish an interim government. 
On October 16, 2002, 9/11 was cited as the justification for the Congressional authorization of military force against Iraq. Among other things, the resolution stated that Iraq continues to "possess and develop a significant chemical and biological weapons capability." The United States began military operations against Iraq on March 20, 2003. Within a few weeks, the regime of Iraqi dictator Saddam Hussein had collapsed. On May 1, 2003, President George W. Bush (R) stood behind a "Mission Accomplished" banner and declared that "major combat operations in Iraq have ended." 
In both cases, the initial military objectives were accomplished quickly. But leaders did not fully consider the question: what's next?
U.S. combat against the Taliban in Afghanistan continued for nearly two decades. The lengthy conflict claimed the lives of 6,294 American service members and contractors, 66,000 members of the allied Afghan military and security forces, and 47,245 Afghan civilians. When the United States finally withdrew the last of its forces in August 2021, the Taliban immediately re-established control.  
In Iraq, U.S. forces maintained a presence until 2011. The operation resulted in the deaths of 8,160 American service members and contractors, 50,000 allied Iraqi forces, and 200,000 or more Iraqi civilians. No weapons of mass destruction were found, and Hussein's regime had no involvement in 9/11.
Both operations, which produced few tangible benefits, also had massive financial costs. According to Brown University's Watson Institute, the direct cost of the wars in Iraq and Afghanistan was $2.2 trillion. Since the wars were financed with debt, the total cost could exceed $4 trillion by 2030 and $6.5 trillion by 2050. 
On October 7, 2023, Hamas militants launched a surprise attack on Israeli towns on the border of Gaza, killing at least 1,400 people and taking more than 200 hostages. President Biden described the attack, due to Israel's smaller size, as equivalent to "15 9/11s." Biden noted that the deaths tapped into a "kind of primal feeling in Israel, just like it did… in the United States." Israel's response has been unsparing, blanketing Gaza in airstrikes. According to the Palestinian Ministry of Health, 4,385 Gazans have been killed as of October 21. There is also a worsening humanitarian crisis in Gaza after Israel cut off most sources of electricity and water. Israel also ordered more than 1 million Palestinians in Gaza in the northern part of the territory to evacuate south. On Saturday, Israel permitted the first shipments of humanitarian aid to enter Gaza but those supplies only represent a small fraction of what is needed. 
In an Oval Office address Friday night, Biden announced he was sending to Congress "an urgent budget request to fund America's national security needs [and] to support our critical partners, including Israel." The request includes "$14.3 billion in aid for Israel," which would be in addition to the approximately $3 billion in military aid the United States provides to Israel annually. (The $105 billion budget request also includes tens of billions in aid to Ukraine.) 
The money earmarked for Israel includes about $10 billion in direct military aid that will fund both "more air and missile defense support" and "munitions." The request, the White House says, does not specify what munitions the Department of Defense will provide Israel. Ariel Cohen, a Senior Fellow at the Atlantic Council, says Israel has a particular need for "bombs that can penetrate the reinforced concrete of Hamas structures in Gaza" and "air tankers, which are crucial to extending the range of Israel's air force." Biden's request also lifts the cap on direct weapons transfers from the U.S. to Israel, which could push the total amount of military assistance higher. 
Biden said the money "will sharpen Israel's qualitative military edge" and "make sure other hostile actors in the region know that Israel is stronger than ever."
But one question Biden did not answer is: what's next? 
According to reports, Israeli officials will "soon" launch a ground invasion. "You now see Gaza from afar, soon you will see it from the inside," Israeli Defense Minister Yoav Gallant told troops on the front line. "The order will come." Gallant says the Israeli military is in the "first phase" of a three-part operation. The initial phase includes airstrikes and a ground invasion "with the purpose of destroying operatives and damaging infrastructure in order to defeat and destroy Hamas." The second phase "will be continued fighting but at a lower intensity as troops work to 'eliminate pockets of resistance.'" The final phase involves "the creation of a new security regime in the Gaza Strip, the removal of Israel's responsibility for day-to-day life in the Gaza Strip."
The final step, which involves ending the conflict, is much easier said than done. In many respects, what Israel is attempting to do in Gaza is more difficult than what the United States attempted to do in Afghanistan and Iraq. In both of those countries, there were factions that were generally supportive of America's presence — the Shiites and Kurds in Iraq and the Northern Alliance in Afghanistan. But there are no significant number of Palestinians in Gaza who will welcome an Israeli occupying force. And any "security regime" established by the Israelis will likely be viewed with extreme skepticism, at best, by the people of Gaza.   
Previous attempts at a ground invasion of Gaza by Israeli forces are a cautionary tale. In 2014, Israeli forces engaged in a battle in Gaza City. The conflict "killed more than 1,600 innocent bystanders and wounded more than 10,000 in a little more than a month." But "Israel eventually retreat[ed] with no significant strategic victories." The dense urban environment in much of Gaza makes for an extraordinarily challenging battlefield. 
Former President Bush, who set the strategy for the United States invasion of Afghanistan and Iraq, has expressed support for Israeli Prime Minister Benjamin Netanyahu's aggressive approach. Bush described himself as "a hardliner" and encouraged Israel to take "whatever actions [are] necessary to defend herself." Bush acknowledged that "[i]t's going to be ugly for a while because "going into the neighborhoods of Gaza is going to be tough." But, according to Bush, there are no other options for Netanyahu. "[H]e's got to do what he's got to do," Bush said. In a video obtained by Axios, Bush does not describe how he envisions the conflict ending. 
In an October 15, 2023 interview on 60 Minutes, Biden said that it would be "a mistake to… for Israel to occupy… Gaza again." But now, Biden is proposing more than $14 billion to aid Israeli operations in Gaza which appears to include a ground invasion. Israel's position is a paradox. Gilad Erdan, Israel's ambassador to the UN, said that Israel has "no interest" in an occupation. But Israeli officials have simultaneously warned operations in Gaza "will be lengthy." 
According to the New Yorker, "senior Israeli officials told the Americans [visiting Israel] to expect a war that could last as long as ten years." If that's the case — and the United States remains committed to helping finance Israel's war effort — $14 billion will only be a small down payment. And, in light of the experiences in Iraq and Afghanistan, there is no guarantee that the situation in Gaza will be any better after many years of war.
In his remarks during his visit to Israel last week, Biden acknowledged that, in its response to 9/11, the United States "made mistakes." Two decades later, is the United States repeating the same mistakes in its efforts to back Israel?