Discover more from Popular Information
Independent accountability journalism.
Over 282,000 subscribers
UPDATE: Comcast severs ties with right-wing lobbyist Matt Schlapp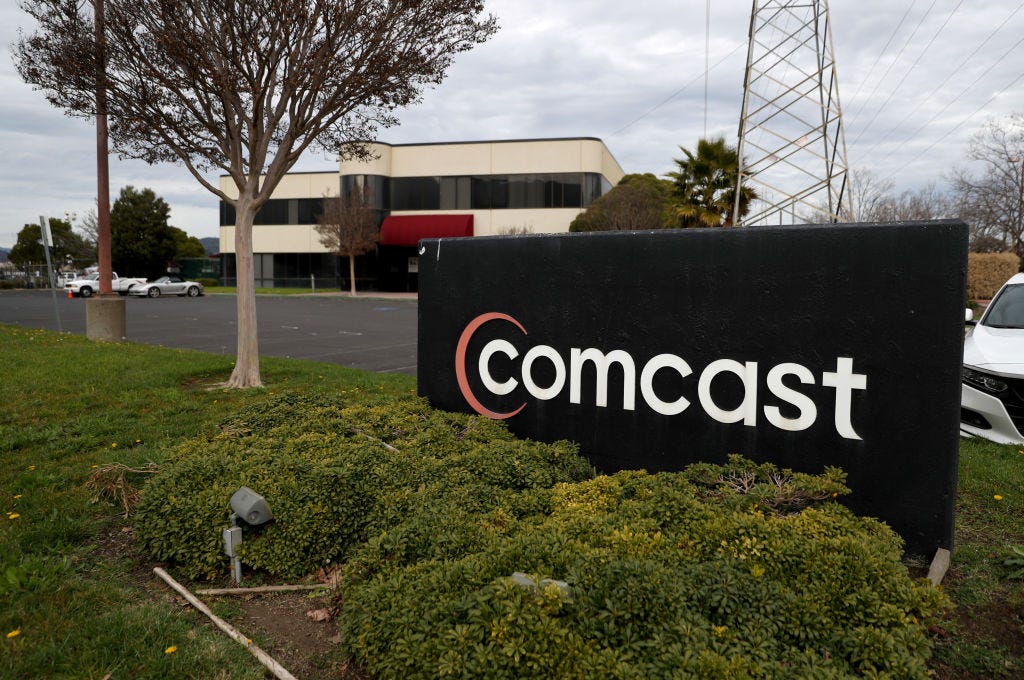 Photo by Justin Sullivan/Getty Images
On Monday morning, Popular Information reported that Comcast, the parent company of NBCUniversal, had ignored repeated inquiries about its relationship with right-wing lobbyist Matt Schlapp. For weeks, Schlapp has attacked and denigrated the Black Lives Matter movement. Meanwhile, Comcast and NBCUniversal were publicly declaring their support for Black Lives Matter. 
Why was Comcast still paying Schlapp, who has an ugly racial history, $120,000 per year to represent the company in Washington, DC? The question gained considerable attention on social media.
On Monday evening, Comcast told Bloomberg News that it was severing its ties with Schlapp. 
Comcast Corp., the largest U.S. pay-TV provider, has cut its ties to conservative activist Matthew Schlapp, who has drawn criticism for remarks about Black Lives Matter.

"He's no longer representing us as an outside lobbyist," a Comcast spokeswoman said Monday by phone, without elaborating.
Verizon and Abbott Labs have also cut ties with Schlapp in the last week. The three companies had been paying Schlapp a combined $480,000 per year. 
---
You can support Popular Information's independent accountability journalism — and help us drain the swamp — by becoming a paid subscriber. It's $6 per month or $50 for a year. 
Popular Information does not accept advertising. That isn't an accident. It means we are not dependent on any corporation and gives us complete freedom to tell you the truth. But it also means this newsletter only exists because of the support of readers like you. 
---
Walmart distances itself from Schlapp, will continue to pay his firm
Walmart CEO Doug McMillon says the company will "fight for greater racial equity inside and outside Walmart." But Walmart also has paid Schlapp $200,000 per year to represent the company on Capitol Hill. Schlapp has worked for Walmart as a lobbyist since 2015. 
Walmart did not respond to a request for comment when Popular Information first reported the relationship on June 22. After publication, Randy Hargrove, Walmart's Senior Director for National Media Relations, told Popular Information that the company "decided to no longer use Matt Schlapp as a lobbyist earlier this year." That decision was "reflected in the first quarter lobbying report" filed by Matt Schlapp's firm, Cove Strategies. 
That report, filed April 20, was not a termination report. Rather, it says that Schlapp was "no longer expected to act as a lobbyist for the client." Hargrove confirmed that Walmart would continue to contract with Cove Strategies.   
While Walmart appears to be trying to create distance between the company and Schlapp, it is a distinction with little difference. Cove Strategies is owned by Schlapp. If Walmart keeps paying the firm, Schlapp will benefit. Moreover, Walmart will still benefit from Schlapp's connections with Republican officials, including Trump, whether or not he is formally lobbying for the company. 
Schlapp continues his attacks on Black Lives Matter
In an interview on The Daily Signal podcast, Schlapp discussed how several major corporations had cut ties with him. Schlapp cast himself as a victim. "These radicals want to destroy me in any way they can," Schlapp said, "I'm laughing, but it's a stressful time."
He then continued his attacks on the Black Lives Matter movement. Asked about his tweets attacking the movement, Schlapp responded with a lengthy diatribe. Schlapp said the Black Lives Matter movement was "anti-Semitic," wanted to create "a national polices force," and believed that "families were bad for kids." 
[T]he idea that it's becoming chic and vogue to advocate for an organization [Black Lives Matter] that says that we should have legal abortion through all nine months of a woman's pregnancy, it should be paid for by taxpayers, that the family should be taken down and is not a positive cultural foundation, that families are bad for kids, essentially, that cops are evil and racist and cops should be defunded and we should have maybe even a national police force, which is obnoxious to anybody who has a constitutional sense of the way America should run, anti-Semitic. The state of Israel is something that's not supported because they clearly have an animus toward American Jews.
It's unclear what, exactly, Schlapp is talking about. The Black Lives Matter movement is diffuse, but major organizing components regularly list their core demands. They have no resemblance to Schlapp's description of the Black Lives Matter agenda. 
There are supporters of the Black Lives Matter on both sides of the abortion issue. It is not anti-family, although it probably has a more expansive definition of the concept of family than Schlapp. The Black Lives Matter foundation says it makes "our spaces family-friendly and enable[s] parents to fully participate with their children." It also disrupts "the Western-prescribed nuclear family structure requirement by supporting each other as extended families and 'villages' that collectively care for one another, especially our children, to the degree that mothers, parents, and children are comfortable." This is hardly a radical notion. (It was famously the title of a book by Hillary Clinton.)
His claim that the Black Lives Matter movement is anti-Semitic is also unfounded. The Anti-Defamation League has rejected "internet rumors" which attempt to link recent Black Lives Matter protests to anti-Semitism. 
Schlapp claimed that there is an effort "to destroy me, and by destroying me, [to] destroy this great country." He claimed that his critics believe "you have to be a Marxist who wants to destroy the foundation of America in order to be acceptable on questions of race."
During the course of the interview, Schlapp said "White lives matter," "men's lives matter," and "blue lives matter" — phrases that are routinely deployed by those seeking to undermine the Black Lives Matter movement. 
Schlapp's other clients
While Schlapp has lost three major clients in the last week, others have remained silent. Schlapp's remaining clients include:
Oracle. The computer software giant pays Schlapp $200,000 per year. The company does not appear to have publicly commented on the Black Lives Matter movement. Oracle CEO Safra Catz was a member of the Trump transition team and is a major Republican donor. 

Samsung. The electronics manufacturer pays Schlapp $80,000 per year. The company does not appear to have publicly commented on the Black Lives Matter movement. 

eHealth. The private online insurance marketplace pays Schlapp $200,000 per year. The company does not appear to have publicly commented on the Black Lives Matter movement. 
In the podcast interview, Schlapp said his clients were "all public." This isn't true. Schlapp's firm provides a variety of services and he is only required to disclose his clients when his firm engages in federal lobbying. If you have information about Schlapp's non-lobbying clients, send an email to jlegum@protonmail.com.
---
Thanks for reading!